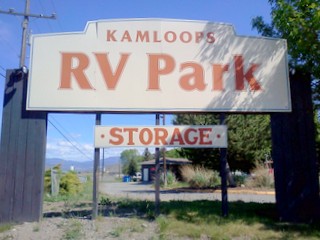 Give us a call to reserve your spot
Come Stay With Us
Kamloops RV Park is a friendly, family oriented park with numerous recreational opportunities nearby -- including world class fishing, 13 golf courses, shopping and resturants. There are many hiking and mountain biking trails in the area, plus numerous local parks - both municipal and provincial.
Just a 15 minute drive to downtown Kamloops, and city transit bus stop across the street.
Our friendly and knowledgable staff is happy to answer your questions about the park and the Kamloops area. We offer everything from tenting to pull-through full hookup pads. Give us a call, and we will reserve your spot.
---
Visit Our Wild Neighbours
We are located right next door to the BC Wildlife Park.
Be prepared for a major expedition in experiencing indigenous wildlife of Super Natural British Columbia, where there is more species diversity than any other province in Canada! The Park features over 65 species of wildlife spread out over 50 hectares. Every member of the family will enjoy seeing cougars, moose, birds of prey, snakes, grizzly bears, mountain goats, and timber wolves. more
Enjoy interpretive talks during the summer months.